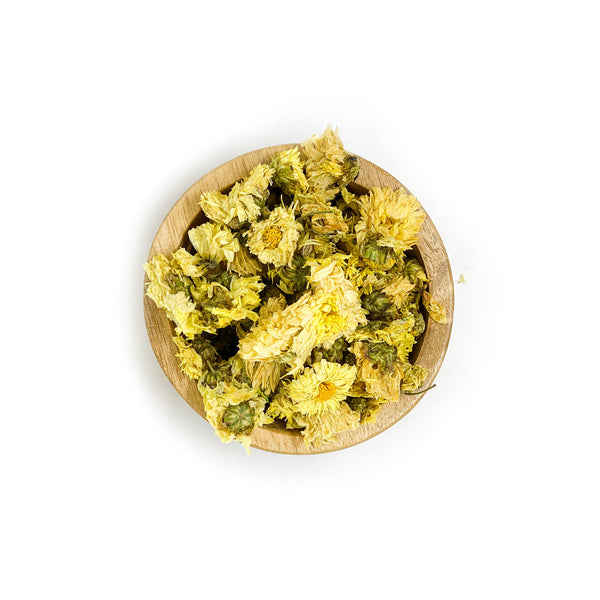 Organic Chrysanthemum, 1.7oz
Botanical Name: chrysanthemum morifolium
USDA Certified Organic
Ingredients: organic chrysanthemum
Country of Origin: China 
Qualities: Chrysanthemum is commonly thought of as a charming decorative flower, however, this herb has applications beyond its beauty and pleasing aroma. In the Ayurvedic tradition, chrysanthemum has an affinity for the head and cooling effects on the mind. In India, chrysanthemum petals are occasionally combined with rose petals for an agreeable floral taste. 
Common Use: Chrysanthemum has been used for hundreds of years in Chinese medicine. People use it to treat respiratory problems, high blood pressure, and hyperthyroidism. Fans of the flower also say it can reduce inflammation and calm your nerves.
How to use it: Infuse it with boiling hot water for 2-5 minutes, and enjoy the tea. 
Storage: keeps in a cool, dry, and dark location.
Disclaimer: This information is for educational purposes only and has not been evaluated by the CFIA or FDA. It is not intended to diagnose, treat, cure, or prevent any disease. This product has been packaged in the facility that does not process any peanuts, tree nuts, wheat, soy, and other potential allergens.
Additional information:
| | |
| --- | --- |
| Weight | 1.7 oz |
| Dimensions | 8 × 5 × 2 in |