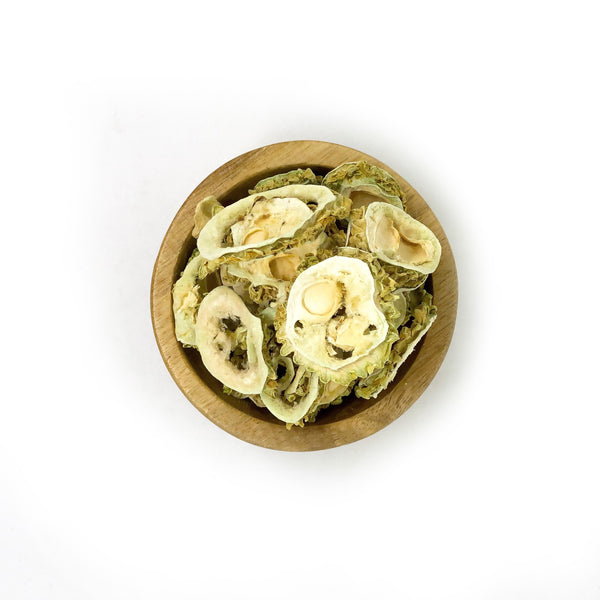 Organic Dried Bitter Gourd Slice (Balsam Pear), 2.8oz
Botanical Name: momordica charantia
USDA Certified Organic
Ingredients: organic dried bitter gourd slice
Country of Origin: China 
Qualities: Bitter Gourd is a green vegetable resembling a cross between a cucumber and a gourd. It is commonly used as a food source in its native tropical regions of Asia and Africa. Traditionally added for its bitter flavor in soups and curries, bitter melon is also employed in Ayurveda for its beneficial properties. The dried fruit can be rehydrated and used in pickling blends and culinary recipes or steeped as bitter melon tea.
Common Use:
Bitter melon is a popular ingredient in Asian cooking, used to flavor diverse recipes including stir-fries, curries, soups, soft drinks and beers. The recipes vary from country to country, but it is a lively and important part of regional cuisine. The bitterness of the melon may make the fruit unpalatable to some folks, but the potency can be reduced by salting, blanching, or pickling. The fruit is generally consumed before fully ripening while the melon is still green. 
How to use it: Simmer slices of the root in tea or soups.
Storage: keeps in a cool, dry, and dark location.
Disclaimer: This information is for educational purposes only and has not been evaluated by the CFIA or FDA. It is not intended to diagnose, treat, cure, or prevent any disease. This product has been packaged in the facility that does not process any peanuts, tree nuts, wheat, soy, and other potential allergens.
Additional information:
| | |
| --- | --- |
| Weight | 2.8 oz |
| Dimensions | 7 × 10 × 1 in |