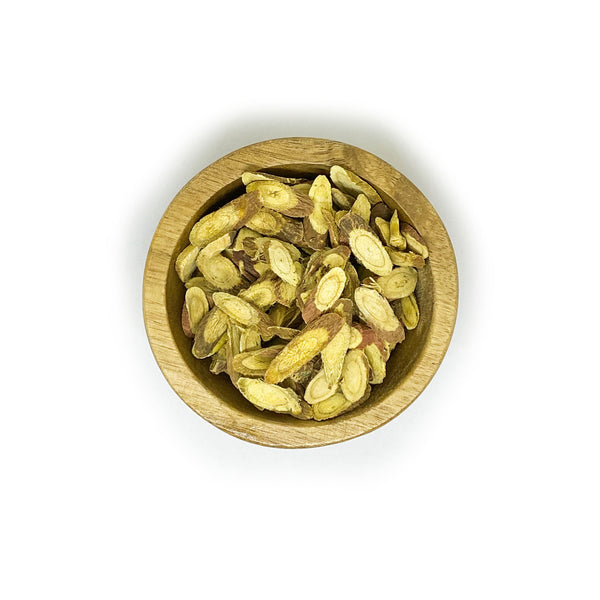 Organic Dried Licorice Root (Slice), 2.4oz
Botanical Name: radix glycyrrhiza
USDA Certified Organic
Ingredients: organic sliced licorice root
Country of Origin: China 
Qualities: The root of the licorice plant (Glycyrrhiza glabra or Glycyrrhiza uralensis) has a long history of use in Eastern and Western medicine. The licorice plant is a perennial legume native to the Middle East and parts of Asia and India. Traditional practitioners believe that licorice root can treat a number of health conditions, including bronchitis, constipation, heartburn, gastric ulcer, eczema, and menstrual cramps. Although licorice is generally safe to use, the overconsumption can lead to severe side effects and even poisoning.
Common Use: Licorice root is one of the most widely used herbs worldwide and is the single most used herb in Traditional Chinese Medicine today. It was used by the Egyptians as a flavoring for a drink called Mai-sus, and large quantities were found in the tomb of King Tut for his trip into the afterlife. Pliny the Elder recommended it to clear the voice and alleviate thirst and hunger. Dioscides, when traveling with Alexander the Great, recommended that his troops carry and use licorice to help with stamina for long marches, as well as for thirst in areas of drought. In the Middle Ages it was taken to alleviate the negative effects of highly spicy or overcooked food. It was also used for flavoring tobacco, and as a foaming agent in fire extinguishers and beer.
How to use it: Simmer slices of the root in tea or soups.
Storage: keeps in a cool, dry, and dark location.
Disclaimer: This information is for educational purposes only and has not been evaluated by the CFIA or FDA. It is not intended to diagnose, treat, cure, or prevent any disease. This product has been packaged in the facility that does not process any peanuts, tree nuts, wheat, soy, and other potential allergens.
Additional information:
| | |
| --- | --- |
| Weight | 2.4 oz |
| Dimensions | 8 × 5 × 2 in |