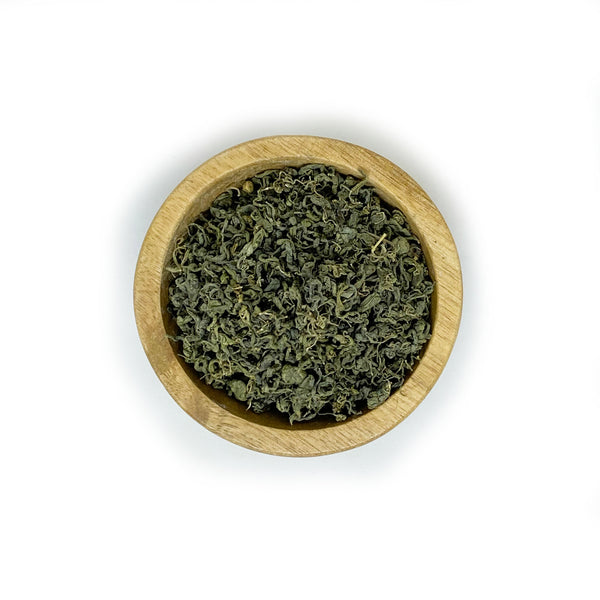 Organic Five Leaf Gynostemma Herb Tea, 3.5oz
Botanical Name: gynostemma pentaphyllum
USDA Certified Organic
Ingredients: organic five leaf gynostemma herb
Country of Origin: China 
Qualities: Five Leaf Gynostemma Herb, also known as Southern ginseng, jiaogulan contains the beneficial compound gypenoside, a saponin similar to one found in Panax ginseng. It also contains sterols, flavonoids, and chlorophyll, which may help preserve heart health, reduce inflammation, and even promote weight loss. In addition, jiaogulan is an adaptogenic herb that helps the body adapt to stress and may enhance memory, improve sports performance, and boost the immune system.
Common Use: Jiaogulan is a plant that grows wild in parts of Asia. The leaf is used to make medicine. Jiaogulan is sometimes referred to as "Southern Ginseng" because it grows primarily in south central China and is used in similar ways as ginseng. People commonly use jiaogulan by mouth for high cholesterol, diabetes, liver disease, obesity, and many other conditions, but there is no good scientific evidence supporting most of these uses.
How to use it: Infuse the leaves with boiling hot water for 2-3 minutes.
Storage: keeps in a cool, dry, and dark location.
Disclaimer: This information is for educational purposes only and has not been evaluated by the CFIA or FDA. It is not intended to diagnose, treat, cure, or prevent any disease. This product has been packaged in the facility that does not process any peanuts, tree nuts, wheat, soy, and other potential allergens.
Additional information:
| | |
| --- | --- |
| Weight | 3.5 oz |
| Dimensions | 8 × 5 × 2 in |