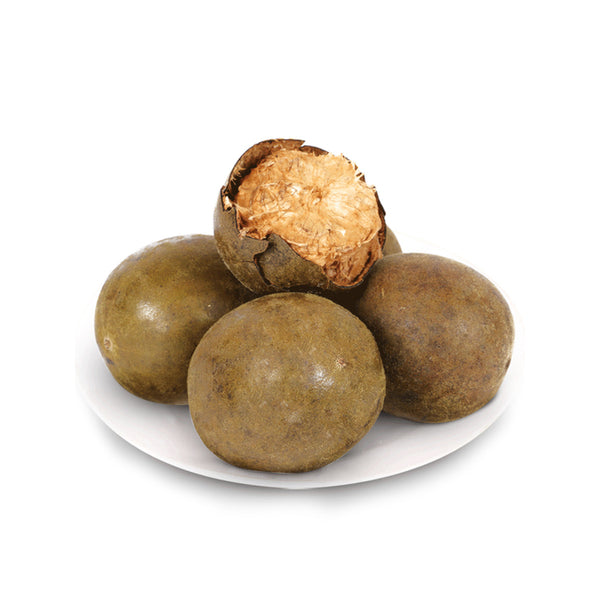 Organic Monk Fruit (pack of 4), 2.8oz
Botanical Name: siraitia grosvenorii
USDA Certified Organic
Ingredients: organic monk fruit
Country of Origin: China
Qualities: Monk fruit is a small, round fruit that originally hails from southern China. Although TCM practitioners have used it for centuries, manufacturers have more recently focused on its potential as a sweetener. Companies make the zero-calorie, carbohydrate-free sweetener from the dried fruit. It is around 250Trusted Source times sweeter than table sugar but does not affect blood glucose levels. Monk fruit is rich in compounds called mogrosides, which give the fruit its extreme sweetness. The Food and Drug Administration (FDA)Trusted Source recognizes monk fruit as safe for all consumers, including pregnant people, and children, and has permitted its use in foods and beverages.
Common Use: Because monk fruit contains no calories, carbohydrates, or fat, people who want to lose weight may find monk fruit a useful addition to their diet. A person who uses sugar can reduce their calorie intake by substituting monk fruit sweeteners where they would typically use sugar. For example, in their morning coffee, or with breakfast oats. People can also create low-calorie treats and desserts by using monk fruit sweeteners.
How to use it: Break the monk fruit, and infuse it with hot water to extract the sweetness tea.
Storage: keeps in a cool, dry, and dark location.
Disclaimer: This information is for educational purposes only and has not been evaluated by the CFIA or FDA. It is not intended to diagnose, treat, cure, or prevent any disease. This product has been packaged in the facility that does not process any peanuts, tree nuts, wheat, soy, and other potential allergens.
Additional information:
| | |
| --- | --- |
| Weight | 2.8 oz |
| Dimensions | 8 × 5 × 2 in |