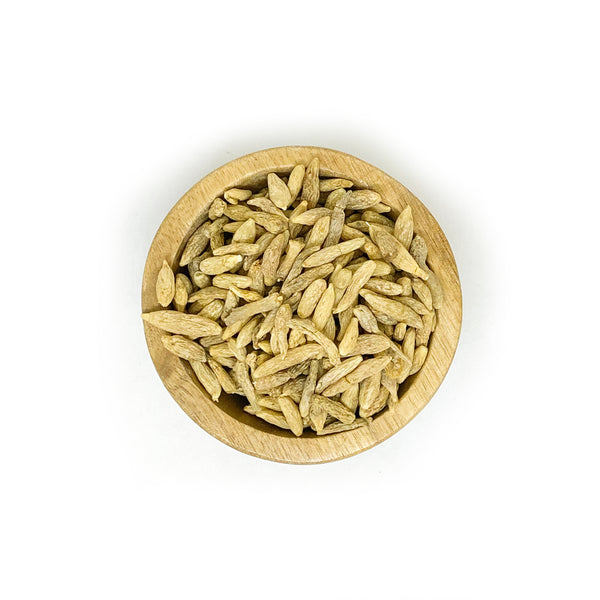 Organic Ophiopogon Root, 5.9oz
Botanical Name: ophiopogon japonicus
USDA Certified Organic
Ingredients: organic ophiopogon Root
Country of Origin: China 
Qualities: Ophiopogon Root contain a variety of steroidal saponins, carotenoids, mucilage, sugars, stigmasterol, and other ingredients. Pharmacological experiments show that it can increase white blood cell counts, extend the lifespan of antibodies, improve immune function and DNA synthesis rate, and promote the production of antibody, complement, interferon, lysozyme, and other immune substances. In addition, it is also found with ability to improve myocardial contractility and protect myocardial cells. As a result, it becomes one of main ingredient in Shengmai powders, which, to a certain extent, can help to activate and restore the pulse.
Common Use: Ophiopogon is an antiseptic that is particularly useful in the healing of mouth sores. Its sedative qualities provide relief for insomnia , heart palpitations, anxiety , and rest-lessness. It is similar to the many chemical sedatives used in Western medicine in that it reduces muscle spasm.
How to use it: Simmer slices of the root in tea or soups.
Storage: keeps in a cool, dry, and dark location.
Disclaimer: This information is for educational purposes only and has not been evaluated by the CFIA or FDA. It is not intended to diagnose, treat, cure, or prevent any disease. This product has been packaged in the facility that does not process any peanuts, tree nuts, wheat, soy, and other potential allergens.
Additional information:
| | |
| --- | --- |
| Weight | 5.9 oz |
| Dimensions | 8 × 5 × 2 in |