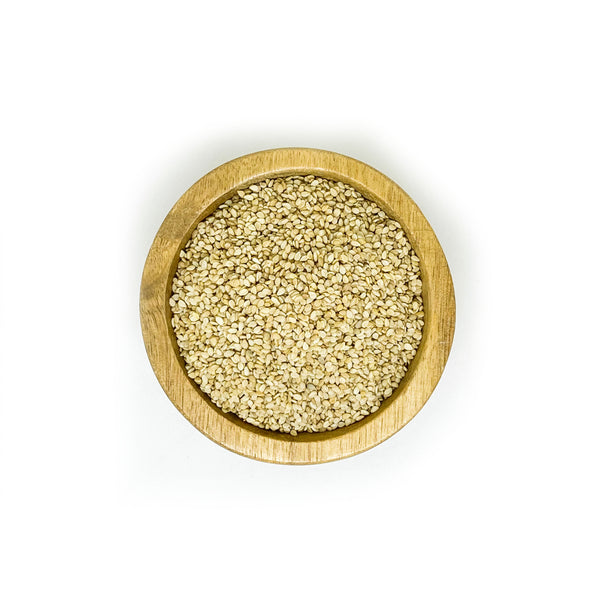 Organic Raw White Sesame, 16oz
Botanical Name: sesamum indicum
USDA Certified Organic
Ingredients: organic white sesame
Country of Origin: China 
Qualities: Sesame seeds are a rich and oily seed with a characteristic nutty flavor. They are a staple in a diversity of cuisines worldwide and may be considered to be the world's oldest condiment. There are three types of sesame seeds: white, black, and brown. The black sesame seeds are unhulled sesame seeds while the white sesame seeds are sold with their hulls removed. Because of this, black sesame seeds tend to be slightly more bitter and nuttier in flavor compared to white sesame seeds.
Common Use: Sesame seeds have a long history of use in global herbal practices. In Ayurveda, sesame seeds were ground and applied as a poultice and a sesame paste was blended with ghee also for external use. Sesame oil was often applied to the skin and hair for added nourishment and was even used as a base in perfumed oils for anointing. In Traditional Chinese Medicine, sesame seeds are known as a yin tonic and are used to moisturize and increase body fluids. In western European herbalism, sesame oil was also utilized in a range of external applications.
How to use it: Pan-fried the sesame seeds before using them Sprinkle on top of your favorite dishes.
Storage: keeps in a cool, dry, and dark location.
Disclaimer: This information is for educational purposes only and has not been evaluated by the CFIA or FDA. It is not intended to diagnose, treat, cure, or prevent any disease. This product has been packaged in the facility that does not process any peanuts, tree nuts, wheat, soy, and other potential allergens.
Additional information:
| | |
| --- | --- |
| Weight | 16 oz |
| Dimensions | 8 × 5 × 2 in |