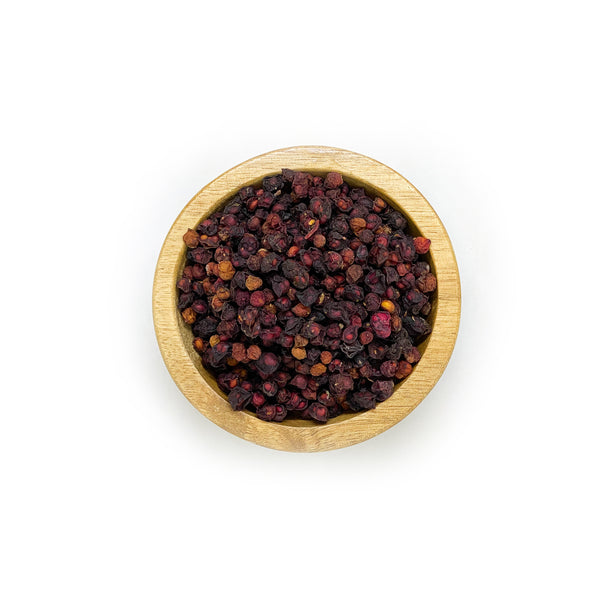 Organic Schisandra, 3.5oz
Botanical Name: schisandra chinensis
USDA Certified Organic
Ingredients: organic schisandra berries
Country of Origin: China 
Qualities: Schisandra chinensis is referred to by various common names including magnolia berry and five-flavor-fruit. It is one of the 50 fundamental herbs in Traditional Chinese Medicine and is said to contain all five basic flavors: salty, sweet, sour, pungent, and bitter. The fruits of a deciduous woody vine native to forests of northern China and eastern Russia, schisandra berries are typically manufactured in these regions as juices, wines, extracts, and sweets. The berries can be macerated in fruit juice, tinctured, and infused as schisandra berry tea.
Common Use: Some users take 1 teaspoon a day and it makes a lovely infusion in fruit juice. Pour ½ cup to a 1-gallon pitcher of a dark fruit juice and allow it to soak for 1 day. Strain and drink as necessary. Schisandra can also be added to tea decoctions, herbal brews (soft simmer), and is effective as a liquid herbal extract. One can also make an effective schisandra syrup by allowing the berries to soak in Glycerin for 1 month.
How to use it: Infuse it with boiling hot water for 2-5 minutes, and enjoy the tea. 
Storage: keeps in a cool, dry, and dark location.
Disclaimer: This information is for educational purposes only and has not been evaluated by the CFIA or FDA. It is not intended to diagnose, treat, cure, or prevent any disease. This product has been packaged in the facility that does not process any peanuts, tree nuts, wheat, soy, and other potential allergens.
Additional information:
| | |
| --- | --- |
| Weight | 3.5 oz |
| Dimensions | 8 × 5 × 2 in |